and as promised I am back with some cookies! Between two three year old birthdays and Easter, I have been busy baking the last week.
Today I will start with my first batch of Easter cookies of the season. These were fun...how stinkin' cute is that chick coming out of the egg? Love this, and so easy to do!
Now here is a question for you...do you "Peep"? It's the age old question...because it seems you either LOVE them or HATE them! I don't think there is an in between here. I happen to be a lover...I will eat them fresh out of the package or slightly stale, yummmmm! Anyhoo, I made these little bunny "peeps" (I don't know why the cookie cutter people haven't made an actual chick "peep", but they definitely should!). As you can see, it really is a basic bunny cutter, but for these cookies it was all about the color and the sanding sugar! Super simple!
As always, click on the picture for a better look...I have offered to pay for my daughter's photography class if she can teach me how to take better cookie pictures!
Be sure to come back by this week for more Easter and of course the birthday party cookies! Oh and let's not forget my latest ABC Project...I am lovin' how that is turning out!
Till then, happy baking!
Linking to:
Centsational Girl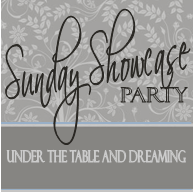 There's a skinny girl who lives inside of me that's screaming to get out...I can usually shut her up with cookies!