So, contrary to some people's belief, life is not just about cookies (yeah...who knew right?!). Because a person only has so many reasons to bake cookies, I have decided to start an ABC (Anything BUT Cookies) Day. No specific day or time, just whenever the mood hits me (or if I deem something interesting enough to be blog worthy!). Such days will warrant their own spot in my sidebar (coming soon). So, if this is something that might interest you, stay with me...if you just can't wait to read about the giveaway then fine, go ahead and skip to the bottom of this post.
Apparently I have been living under a rock...I did not know that things built under glass domes are called a cloche. I have been seeing them all over blogland so I decided to make one for Halloween. First I turned these thrift store beauties:
Into this:
Nothing too difficult...I just removed the little cup from the candle holder, gave it and the cake plate a good washing, then sprayed it with black spray paint. After the paint dried, I decided to shabby it up a bit and using denatured alcohol (found at Lowe's) and fine steel wool, I just started rubbing some of the black off. I finished it off with a little clear sealer.
Now for the fun part. Using a little packaged moss, I started building my "spooky" scene. All items were purchased either at Michaels or the Dollar Store. The little skeletons came four to a pack, I left one intact and pulled another apart...sticking different body parts around the tombstone (which was too tall to fit under the dome, so I had to lay it down, which I like better anyway). I used red Stickles in the eyes of both the skeletons and the mice. Those little critters are those sticky rubbery things that are so creepy to touch. I couldn't resist adding a few on the outside. I then inserted three little flameless candles...VOILA!
TOTAL INVESTMENT: approx. $15
I apologize for the poor pictures, it is just impossible to get a good picture of this because the glass distorts it. It looks much better in real life!
Anyone still with me? I decided to do a QUICK giveaway...why so quick...because these cookies are baked, decorated and ready to go! I have heat sealed the bags to keep them fresh for as long as possible. I will random draw one name for at least 6 Halloween cookies (more if they will fit in the box!) Just leave a comment by
6:00 PM CST tonight
. Make sure that you leave contact info so that I can get your address! These will ship tomorrow morning!
This post linked to: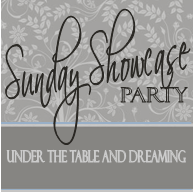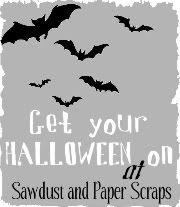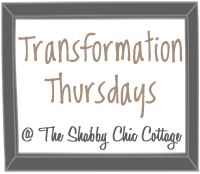 There's a skinny girl who lives inside of me that's screaming to get out...I can usually shut her up with cookies!