So today marks one full week on Weight Watcher's and today will also determine how the week went. The first weigh in is usually the toughest as I have been very good and if I don't lose, it will be
a little
very disappointing. However, I will put my big girl panties on (which I am sure are fitting a little looser this morning) and deal with it...I will report back tomorrow!
Now how about some cookies?! These were made for a customer's first little Granddaughter. Next to pink and black, pink and brown is my favorite color combo for little girl's! I picked this cute pink basket up at Home Goods (have I mentioned I LOVE this store?!) and ran some brown and pink polka dot ribbon through the webbing. Since it came with a lid, I just put it on the bottom so that it could be used in nursery once the cookies are gone since these are her colors.
What do you think?
I have a great "reveal" that I have been working on...can't wait to show you my latest ABC (
A
nything
B
ut
C
ookies) project later this week! Till then...happy baking!
Also...want a chance to win a super party giveaway? Just pop on over to
Glorious Treats
for all the details!

This post linked to: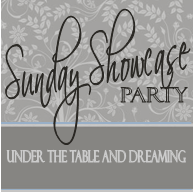 There's a skinny girl who lives inside of me that's screaming to get out...I can usually shut her up with cookies!