Before I do anything else I must ask...have you seen my "Followers" list? If so, would you please send it home...apparently it has lost it's way and has been missing for weeks now...it is beginning to irritate me! I do have one, really I do!
Update...my daughter informed me that she is able to see my Follower list just fine...apparently it is just me that is not able to see them. This is very strange though, because as I am lurking some of my other beloved bloggers...I can't see their Follower list either. How weird is that?!
Okay, now for a little ABC project. Melissa and I were at Saver's a couple of weeks ago and I spotted this little table. Please try and ignore the
pouting
unhappy child that was draped across it at the time (yes, she did belong to us).
I checked it out but could not make up my mind. I just loved that it was a table but had a magazine rack as well, but the maple finish...eh, not so much! Obviously it was not the price, which was only $8...nope, make that $6...it was 25% off day. SOLD!
As you can see, it was in need of some TLC but nothing that a little wood glue couldn't solve.
I decided that I wanted to paint it a nice neutral color, so I went with Rustoleum Heirloom White. I was not sure if I wanted to "shabby" it up (could you tell there was quite a bit of indecisiveness going on in this project, lol?). After all was said and done, I loved the color but felt it did need a little something so out came the sanding block. This is how she looks now...whatcha' think?
Kind of cute, huh? Total cost, about $9. She doesn't have a home yet, but I will find a little spot for her somewhere...I hope!
Linking to: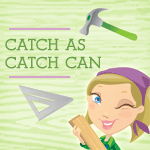 Miss Mustard Seed
There's a skinny girl who lives inside of me that's screaming to get out...I can usually shut her up with cookies!