Hope you all had a safe and Happy New Year's eve. Ours was spent babysitting Taylor and Thomas while mom and dad shared a night out. Not that we would have gone out anyway...we pretty much gave that up years ago.
I have been baking cookies for the last couple of days...Valentines, if you can believe it. I have some cute ideas for gift boxes...I will post a peek soon. Until then, I will share a couple of "ABC Projects" that I made for my grandkids for Christmas.
Two days before Christmas I decided to make Thomas a new blanket. I love these "no-sew" projects. I literally bought the fabric and had it done in a little over an hour. In my never ending attempt to make him a full fledged Cardinals fan (his dad is of course a Seahawk fan) I couldn't resist making him this:
I told him he was welcome to take it home or leave it at Nana and Papa's for when he spent the night...he chose to leave it here because in his own words, "This is Cardinals country"...gotta love that kid!
Taylor's project was a little more time consuming. Very easy, all in all, but still took a little more time. I purchased the e-pattern off of ETSY. I wish I could say that I have one of those fancy machines like my cyber friend
Lucy
...she makes the most ADORABLE machine embroidered items I have ever seen. Please take a moment to check out her blog...it will blow you away! Anyhoo, since those machines START at around $2000, I opted to have her name but on professionally. This little tutu bag will be perfect for carrying her dance shoes to class.
Well, that's it for me today! I promise to be back in the next few days with some cookies. Till then...Happy Baking!
This post linked to: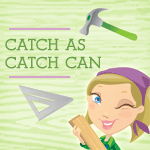 There's a skinny girl who lives inside of me that's screaming to get out...I can usually shut her up with cookies!