sideboard with chalkboard.
Okay, so this is your chance to run...run as fast as you can and STOP reading this post right now, IF you think it is positively disgraceful to paint a piece of antique furniture. Don't worry, I won't be offended...I was even having second thoughts myself for a few
minutes
seconds before I actually did it. In my own defense, I have absolutely no emotional ties to this piece of furniture...I bought it at a garage sale, therefore it is fair game in my book.
First I will refresh your memory as to what piece it is that I am talking about:
I found it while garage saling with my two daughters. I had a vision...one that I am not sure they could see, but they played along as if they could. I have this one little wall in my kitchen dining area that has been a thorn in my side,
forever
. It only measures 44 inches wide, so obviously whatever I put there could not be very big...then I found this little jewel. Ahhhhhh, 36 inches....perf!
I could totally see a chalkboard in place of that mirror...I just had to figure out how to do that. That part actually turned out to be quite simple...more about that in a minute.
Here is the finished piece: ("click" on pics for better view!)
As you can see, I opted to sand the top and just stain it...love how that turned out. The rest I just used Valspar Black Satin spray paint...whoa, did I just hear a "gasp"?! Why spray paint, you ask? Well, I'll tell you...I used regular paint, rolled on, for my
hutch
and to be honest, it was somewhat of a nightmare. It took forever for that "tacky" feeling to go away, and I just wasn't going there for this project. Believe it or not, it only took three cans of paint, I didn't think that was bad at all!
After I painted it black, I used an old cloth and some Odorless Mineral Spirits, to rub off the black so that the brown would show through. I am sure you won't find this technique in any "how-to" book...probably not the way it should have been done, but it worked for me! I gave the whole piece a few good coats of satin Polyurethane.
About the hardware...I actually liked the ones that were on it, and with a little lovin' they would have been perfect, except for one little problem. Did you notice on the first picture? Probably not...I bought the thing and I did not notice till I went to take the handles off. Here, take a better look:
Yep, that one little handle is different. I know that for character's sake, I could have just left them, but it was something that was going to bug me so I went and bought new. I purchased these made by Martha Stewart (well, I doubt SHE actually made them, but whatever) at Home Depot. Those handles are just screaming for some type of vinyl wording...I just haven't figured that out what that would be yet...any ideas?
Last, but certainly not least is the chalkboard. My idea was to just turn the mirror part around and work on the back so as to not ruin the mirror itself. That didn't end up working out. Enter Plan B...you know that I have just recently discovered MDF, right? I mean, I knew it was around, I had just never worked with it before...this stuff ROCKS! Anyhoo, I went to Home Depot, probably about my tenth trip for this project alone and had the guy cut me a piece of 1/4 inch (?) MDF the exact size of where the mirror sits. My plan was to just put Velcro adhesive on the back of the MDF and the front of the mirror, so that I could easily remove it if and when, I ever wanted to. It ended up not being necessary because the fit was tight enough that it stayed on it's own.
At first I tried the spray Chalkboard Paint, but I just could not get an even coverage....arrghhh! You guessed it, back to HD (these people have to love me) to purchase it in paint on form. Ahhhhh, much better! Now, I wish I could take credit for coming up with the chalk holder idea...but I cannot do it with a clear conscious. One of my absolute favorite blogs to follow is called
My Repurposed Life
and can I just say, Gail is AMAZING! Give that girl a piece of scrap wood and she will build you a house! Anyhoo, she made the cutest little standing message boards and used a Scrabble Tile Holder for the chalk...genius, right?
I picked my Scrabble game up for $2 at a garage sale, and still have three more holders for future projects, lol!
I purchased the knife, fork and spoon from where else, but Hobby Lobby...my all time favorite "go to" place for chatchky's. Because I have 10 foot ceilings and this little piece only measures about 62 inches tall, I needed something to fill more space. I thought these worked perfect!
So one more peek...see how well it matches my table (and believe it or not, I already had the stain):
Another ABC (
A
nything
B
ut
C
ookies) Project complete. Whatcha' think?!
Linked to: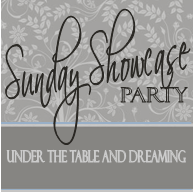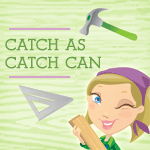 My Uncommon Slice of Suburbia
Somewhat Simple
There's a skinny girl who lives inside of me that's screaming to get out...I can usually shut her up with cookies!